A pro-Johnny Depp YouTube channel is looking for a researcher to find content that "proves how guilty Amber Heard is".
A job offer posted on Upwork is looking for researchers to collect content for $8 an hour that features the Aquaman actress in a negative light to please Depp fans.
"Basically, we're looking for content that's about something that proves how guilty Amber Heard is, because our fans are all Johnny Depp fans. So they prefer videos about new evidence, celebrities or something else that goes against Amber Heard or supports Johnny Depp," reads the job description.
The channel is called Just In but seems to have been formerly named Film Streak. It appears to be a content farm and the listing says it is based in Cyprus.
Newsweek contacted the channel for comment.
The channel's videos contain titles such as "Amber SEEKS OUT S*x Worker To Help Pay Her Debt To Johnny!" and "NEW RUMOR: Amber's baby was just a PLEASURE publicity stunt!"
The thumbnails mostly feature heavily edited footage of Amber Heard giving her testimony in court.
"Johnny has now won in court, so it's getting harder and harder to keep up with the momentum, but we know our fans are yearning for more detail on this whole thing," the job description adds.
Although the list asks researchers to seek "new evidence", the list does not specify whether applicants have legal or other expertise.
Newsweek has reached out to Upwork for comment regarding the job listing and whether the job specifications violate its guidelines.
Heard was the subject of scrutiny on social media during the multi-million dollar defamation lawsuit, which saw a jury award Depp $10 million in compensatory damages, as well as $5 million in punitive damages.
Although the jury sided with Depp, Heard continued to face online trolling with a report in July finding that the actress had been subjected to intense trolling during the defamation trial.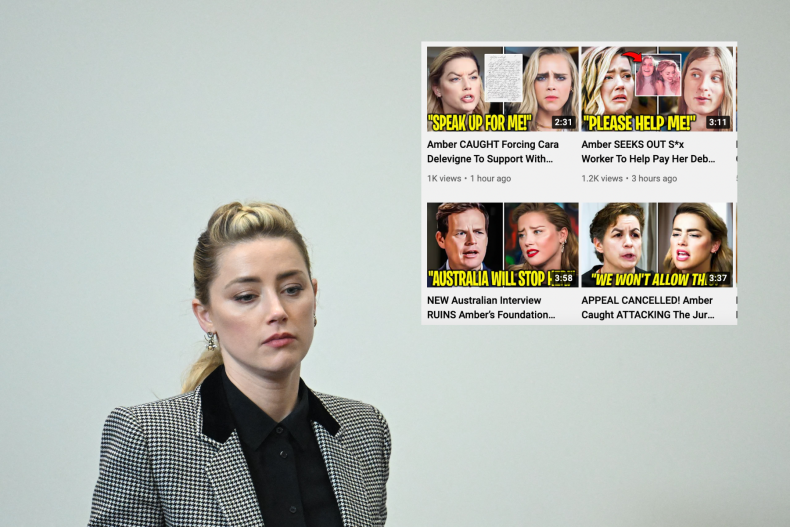 "What we observed was one of the worst cases of cyberbullying and cyberstalking by a group of Twitter accounts we have ever seen," the report states, and notes that 627 accounts were created for the sole purpose of tweeting about the libel suit and about Heard and his supporters.
"The abuse and targeted harassment continued long after the Depp v. Heard lawsuit ended, and unless Twitter takes action, the abuse and targeted harassment will continue," the report said.
The job offer has arrived on Reddit where users label the role "scary".
"I found this ad on Upwork which to me really shows how the social media machine has continued to back Depp for views regardless of the truth," the original poster said.
"It's f***** scary," read a response to the listing on the site, while another added, "'Our fans are stuck on one side of the issue and won't listen to anything that rebuts. Can you find something that can reassure them that they are right?"
Newsweek has reached out to representatives for Depp and Heard for comment.
The trial ended with a jury finding that Heard defamed Depp with actual malice, following an op-ed she wrote in 2018 alleging being the victim of domestic violence.
Throughout the trial, Heard was mocked relentlessly on social media by ardent Depp supporters and her moving testimony alleging she was punched by Depp even turned into a viral TikTok trend.
Meanwhile, last weekend, a prominent YouTuber and dedicated Depp fan received a cease and desist letter for harassing Heard's publicist.