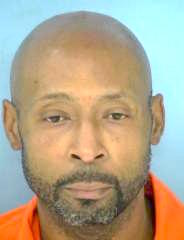 The four-day murder trial of Fayetteville resident Jermaine Alfonso Harmon ended Aug. 25, with Harmon found guilty of murder and aggravated assault, and sentenced to life in prison.
District Attorney Marie Broder said Superior Court Judge W. Fletcher Sams sentenced Harmon, 49, to life in prison plus five years after the jury found him guilty of murder, assault serious offenses and possession of a firearm during the commission of a crime.
Chief Assistant District Attorney Warren Sellers and Senior Assistant District Attorney Dan Hiatt tried the case for the state. The case was investigated by the Fayette County Sheriff's Office.
Brooklyn, New York, resident Joshua Kellam, 38, on August 1, 2020, was shot dead at the Harmon residence on Wilkins Road in the Kenwood Acres subdivision in North Fayette during an altercation with Jermaine Harmon, the sheriff said Barry Babb at the time.
Broder said evidence at trial showed the victim, Joshua Kellam, returned his 10-year-old daughter to the home of the child's mother and the defendant on July 31, 2020 after a month-long summer visit.
The following day, August 1, 2020, the victim realized that he had left his travel bag containing important legal and personal documents in his daughter's suitcase and had mistakenly kept his satchel. Kellam tried by texts, calls and visits to the residence alone and accompanied by law enforcement to retrieve the bag, Broder said.
"Although the defendant knows that Mr. Kellam requested the return of the file, he refused to respond. Finally, (Kellum) came back one last time that night with the child's school bag in one hand and his cell phone in the other. When Mr. Kellam knocked on the door, the accused came out of the house with a .40 caliber Glock pistol, punched Mr. Kellam in the face and shot him in the heart, causing his death," said Broder said.
Broder said Harmon testified at trial, claimed self-defense and claimed he shot the victim after the victim got him in a headache. The jury rejected this defense with its verdict.
The victim's wife and sister attended the trial and spoke at the sentencing hearing.
"All of us involved in the trial were deeply saddened by such a senseless murder of such a loving husband, father and brother." Sellers said of the verdict. "We are grateful that justice prevailed and that Mr. Harmon was held accountable."
Also commenting on the outcome of the trial, Broder said, "This verdict is a jury statement that you cannot take the life of another human being and then attempt to use self-defense to escape crime. Joshua Kellam was so loved and his murder touched so many. I hope and pray that this verdict and sentencing gives his family some sense of justice.